OPEN for Brown Bag & Seed Bank Distribution
Wednesdays: 10 am – 2 pm
Fridays: 9 am – 1 pm
Location: Outside the Ortega side of the University Center, facing the lagoon
(The same as before, but outdoors)
Prior to your visit, please register for the food bank first here.
Our bags include the following:
Fruits & Vegetables: Varies from week to week, but typically includes potatoes, oranges, apples, onions, tomatoes, bell peppers etc.
Bread: Sliced bread or pastry item
Add-Ons: Soups & Chicken Broth, Peanut Butter, Pasta & Sauce, Beans, Instant Ramen, Rice, Tortillas, Fruit Mix, Mac & Cheese, Cake Mix, Snack & Granola Bars, Tuna, Canned Corn, Instant Mashed Potatoes, etc.
Toiletries: Toilet Paper, Fabric Masks, Floss, Pads & Tampons, Bar Soap
How does it work?
Students may come every Wednesday and Friday to pick up a bag. Each morning, our staff will update our Instagram stories with our available produce and other goods. Fresh produce and bread are first come, first serve. For the best selection, come early! In addition to the brown bag, students may pick add on items. There is no limit to how many items may be added on. These options range from non perishable goods, toiletries, and other miscellaneous items. This list is not comprehensive, as our selection varies on a daily basis.
Questions?
Contact: Follow us on Instagram (@ucsbasfoodbank) for the most recent updates & to see what is inside our brown bags!
Email: For any questions, concerns, or accommodations – ucsbasfoodbank@as.ucsb.edu
Facebook: @ucsbasfoodbank
At this time, we are still determining what Spring 2021 will look like. Be sure to keep up with us on Instagram for the latest updates about our services. Thank you for your support!
More food resources: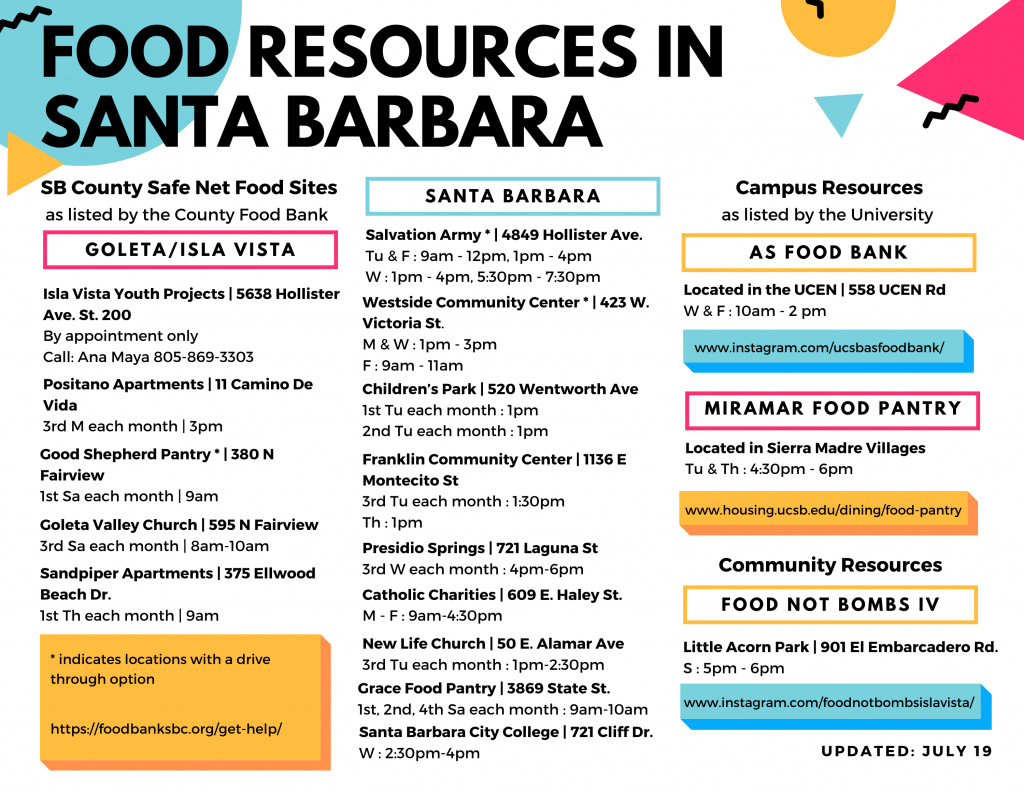 How you can help:
We are in need of donations of toilet paper, menstrual products, and soaps. Please visit our donations page for a full list of accepted donations. If you would like to drop off a donation, contact ucsbasfoodbank@as.ucsb.edu. Thank you for your support!