What is Swipe Out Hunger?
Swipe Out Hunger was founded and established in UC Los Angeles to help fight food insecurity in their local communities for students and the houseless population in 2009. Since 2012, UC Santa Barbara has joined the fight and established the program within our campus via Shannon Mirshorki and Alexandra Guthy.
How can you help?
Through Swipes UCSB, students can donate unused meal swipes to those in need. If you would like to donate and find out more, please click here.
UCSB has a total of a 1000 swipes cap. 75% of donations are converted into meal vouchers for students in need that are distributed via the AS Food Bank. The other 25% of swipes is converted into monetary value and are used to purchase food and various items for Casa Esperanza Homeless Center in downtown Santa Barbara.
How do I apply? What is the process?
If you would like to apply for a meal ticket please click the link below and fill out the following application. Due to high demand and limited amount of meal tickets, applications will be prioritized based on need. Once the application is filled out, you will receive an email from the AS Food Bank within one or two weeks notifying you if you received a meal ticket or not and what are the next steps.
Please note that only current registered undergraduate and graduate students who do not have a meal plan can qualify for a voucher. The meal voucher is meant for YOUR use only. You cannot exchange or sell this ticket for monetary gain. Please note that if you do not pick up your meal ticket the quarter you apply for it, your meal ticket may be reallocated at the end of the quarter and distributed to another student in need.
If you need further food assistance, please visit the AS Food Bank's pantry on the 3rd floor of the UCen or check out the CalFresh program regarding a potential monthly benefits for food.
Click Here to Apply: Swipes for Us Application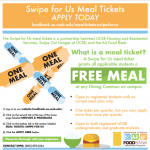 The Swipe for US program is partnership of the UCSB Housing & Residential Services Dining, Swipe Out Hunger at UCSB, and the Associated Students Food Bank.
To learn more about Swipe for US please visit: swipehunger.org