Shopping and grocery shop on a budget can be difficult.  Below are some local stores and resources for you reference as you are working to compare prices and save.  If you would like to learn on how to cook on a budget check out our recipe section.
To learn how to shop. Here are some tips by our partners, the Isla Vista Food Co-Op what to consider when shopping. They also have weekly shopping on a budget tours as well.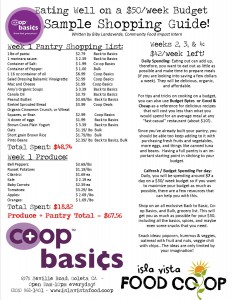 Effective Coupon Clipping
You can reduce your food costs by using food coupons.
Basic tips to couponing include:

Check out weekly coupons/specials
Use specific store online coupons (check out their website)
Search for coupons online at manufacture's website. Here is a website for manufacture coupons, http://www.livingrichwithcoupons.com.
***Please note that California does not allow Double Couponing so use the store rewards program and the coupons***
Here is a list of websites that can help get you start using coupons effectively:
http://tlc.howstuffworks.com/family/5-extreme-coupon-tips-for-normal-people1.htm
Isla Vista Grocery Store
Isla Vista Food Co-Operative
6575 Seville Road
Isla Vista Market
939 Embarcadero Del Mar
Ethnic Specific Market in Goleta & Santa Barbara (in no specific order)
Choi's (Korean Market)
185 Patterson Ave Suite D
Santa Barbara, CA
Indo–China Market (Asian Market)
6831 Hollister Ave
Suite C
Goleta, CA
La Chapala (Mexican Market)
5780 Hollister Ave
Goleta, CA
Nikka Japanese Market
5721 Calle Real
Goleta, CA
Oriental Market (Asian Market)
5863 Hollister Ave
Goleta CA
PennyWise Market (Indian Market)
1121 Montecito St.
Santa Barbara, CA
Santa Cruz Market (Mexican Market)
5757 Hollister Ave
Goleta, CA
Thrift Stores
Thrift stores resell used items such as furniture, kitchenware, electronics, clothing, etc. at a low cost.  Some of the thrift stores are non-profit organizations benefiting a specific cause.  The list below is in alphabetical order.
Alpha Thrift Stores
5624 Hollister Avenue
Goleta
(805) 964-1123
5949 Hollister Avenue
Goleta
(805) 962-1123
Destined for Grace Thrift Store Goleta

5960 Hollister Ave.
Goleta, CA 93117
(805)619-0649
2830 B De La Vina
Santa Barbara, CA 93105
(805)619-0649
From My Heart Thrift Store
418 N. Milpas St.
Santa Barbara, CA 93111
(805)884-8700
Goodwill
302 W. Carrillo St.
Santa Barbara, CA 93101
(805)899-3807
Thrifty Shopper
609 Haley St.
Santa Barbara, CA 93103
805-966-9659
United Family Association Thrift
(805) 964-9996
5156 Hollister Ave,
Santa Barbara, CA
Discounted Shopping
UCSB Inexpensive Office supplies
Here you can find inexpensive used furniture and any items that have been discarded from the campus departments. Viewing days and times are generally Tuesdays and Thursdays from 1:00 p.m. to 4:00 p.m. You may want to call before coming…read more.
99 Cent Only Store
424 State St.
Santa Barbara, CA. 93101
(805)965-4299