"Spanish" Green Beans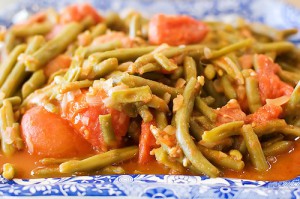 Ingredients
5 slices Bacon
1 whole Onion (medium)
4 cans (14.5 Oz. Cans) Whole Green Beans (or 1 To 2 Poounds Fresh)
2 cans (14.5 Oz.) Whole Tomatoes
Cayenne Pepper To Taste
Preparation Instructions
Slice the bacon up into 1 inch pieces and start cooking them in a large skillet or Dutch oven. Keep cooking until bacon turns brown. Meanwhile, dice 1 medium onion. When the bacon is beginning to brown, drain some of the fat and then add the onions. Cook, stirring now and then, until bacon and onions are both turning a nice golden.
Drain the green beans and add them right into the pan with the bacon and the onions. Next, throw in the two cans of whole tomatoes with their juice. Stir around gently and then cover and reduce heat to low. Cook for about 45 minutes.
When they are finished cooking add cayenne pepper to taste up to about ¼ of a teaspoon for a hotter dish. Stir gently and serve!
http://thepioneerwoman.com/cooking/2007/11/spanish_green_beans_a_yummy_thanksgiving_side_dish/
Green Bean Casserole
Ingredients
Original recipe makes 6 servings
2 (15 ounce) cans cut green beans, drained

3/4 cup milk

1 (10.75 ounce) cancondensed cream of mushroom soup
1 (2.8 ounce) can French fried onions

salt and pepper to taste
Directions
Preheat oven to 350 degrees F (175 degrees C).

In a medium casserole dish mix together green beans, milk, cream of mushroom soup, and 1/2 of the can of onions.

Bake for 25 minutes in the preheated oven, until heated through and bubbly. Sprinkle remaining onions over the top, and return to the oven for 5 minutes. Season with salt and pepper to taste.
Here are some useful budget food blogs for more recipes:
http://recipesonthecheap.blogspot.com
http://cheaphealthygood.blogspot.com
http://www.budgetbytes.com
http://the99centchef.blogspot.com
http://www.poorgirleatswell.com