Here you can find recipe ideas, meal plan prep, and new resources to cook at home!
Using items acquired at the AS Food Bank you can hopefully create a few of these recipes –
Tired of paying $5 for oat milk when you can make it at home? Try this recipe for OAT MILK 
Ingredients –
1 cup rolled oats (gluten-free if GF // or sub steel-cut oats*)
4 cups water (use less water for thicker, creamier milk!)
1 pinch salt
1 whole date, pitted (optional // for sweetness // or 1 Tbsp (15 ml) maple syrup)
1/2 tsp vanilla extract (optional)
2 Tbsp cocoa or cacao powder for "chocolate milk" (optional)
1/4 cup fresh berries for "berry milk" (optional)
Add oats, water, salt, and any additional add-ins (optional) to a high-speed blender. Top with lid and cover with a towel to ensure it doesn't splash. Blend for about 30 seconds – 1 minute or until the mixture seems well combined. It doesn't have to be 100% pulverized. In fact, over-blending can make the oat milk slimy in texture.
Scoop out a small sample with a spoon to test flavor/sweetness. If it's not sweet enough, add more dates.
Pour the mixture over a large mixing bowl or pitcher covered with a very thin towel or a clean T-shirt. In my experience, it benefits from a double strain through a very fine towel to remove any oat remnants. A nut milk bag seemed to let too much residue through.
Transfer to a sealed container and refrigerate. Will keep in the refrigerator up to 5 days (sometimes more). Shake well and enjoy cold. DO NOT HEAT or it will thicken and become gelatinous in texture. It's delicious as is or added to granola, smoothies, or baked goods!
Credit: https://minimalistbaker.com/make-oat-milk/
Ever wanted to try making SOURDOUGH? – Try This! 
In a glass bowl, add water and yeast. Mix the yeast into the water and let it sit for a couple minutes.
Add in the rest of the ingredients for the starter. Mix well until everything is fully incorporated.
Wrap the bowl with clear wrap, making sure not to tightly seal the bowl. Let the starter breathe a little and keep it in a dark place at room temperature. Stir every 12 hours until making the dough. The starter will rise and shrink each day and you should see bubbles, letting you know that the yeast is being activated!
On day 5, combine all ingredients into a bowl, and knead for 10 minutes on low if using a machine; if kneading by hand, knead for 20 minutes until dough is stretchy yet doesn't stick to your hands.
While the dough is kneading, store your starter for future use. Your starter will last forever as long as you maintain and care for it. It can stay in the fridge and be fed once a week with a teaspoon of sugar. To replenish your starter, simply add 1 cup of flour (125g) and ½ cup of water (120ml), mix, and place it back in the fridge. Leave it out overnight to get to room temperature before preparing the dough.
Place kneaded dough into a large floured bowl with a towel over the top, then sprinkle flour and let it rise for 12 hours.
Place risen dough onto a floured board and knead for a few minutes. Place it into a floured proofing basket or a medium bowl, sprinkle flour and let it rise for another 4 hours.
Preheat oven to 480°F (250°C).
Flip the dough onto a parchment paper, and transfer the dough and paper into a large cast-iron dutch oven.
Score the top of the bread.
Place the lid on top and bake for 30 minutes.
Take the lid off and bake for another 15 minutes or until the crust is golden brown.
Transfer onto a cooling rack and let it rest for an hour. Knock the bottom of the bread to listen for a hollow knock.
Nutrition Calories: 1615 Fat: 4 grams Carbs: 340 grams Fiber: 11 grams Sugars: 19 grams Protein: 42 grams
Enjoy!
Credit: https://tasty.co/recipe/how-to-make-homemade-sourdough-bread
Baked ZITI- Delicious and Easy! 

First, cook the pasta! Bring a large pot of salted water to a boil, and cook the pasta until it becomes al dente. Be careful not to overcook it! It will soften more while it bakes.
While the pasta cooks, make the lemony ricotta. Mix the ricotta cheese with lemon zest, oregano, garlic, salt, and red pepper flakes for a touch of heat.
Next, sauté the spinach. Drain the pasta, and heat a glug of olive oil in the same pot. Sauté the spinach until it's just wilted. I work in batches here, cooking 1/2 pound of spinach at a time, so that I can take it all off the heat while it's still vibrant green. Remove the sautéed spinach from the pot, roughly chop it, and set it aside.
Then, mix everything together! Return most of the spinach and all the pasta to the pot, along with all but 1/2 cup of the tomato sauce. Stir until everything is well combined.
Finally, layer it up. Spread the remaining sauce on the bottom of a large casserole dish, and spread half of the pasta mixture over it. Dollop in the ricotta and the reserved spinach, and scoop the rest of the pasta on top. Cover it all with a layer of grated smoked mozzarella and a bit of grated Parmesan or pecorino cheese. Drizzle with olive oil, and bake until the cheese is golden brown and bubbling.
Serve hot, and enjoy!
This baked ziti also freezes well, so you can enjoy it later as well!
Credit: https://www.loveandlemons.com/baked-ziti/
Potatoes and Peppers Breakfast Scramble! 
Ingredients –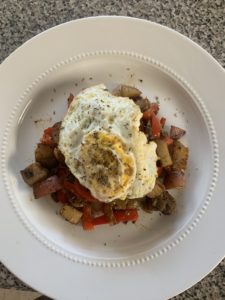 1/2 russet potato
3-4 mini sweet peppers
1/2 small onion
2 cloves garlic
1 egg
1/4 avocado
Red chili flakes
Black pepper
Extra Virgin Olive Oil
Chop up potato, peppers, onion, and garlic. Stick potatoes in a bowl and microwave for 3 minutes to soften
Heat up some olive oil in a pan and cook potatoes, peppers, onions, and garlic until onions are translucent and veggies get a little bit soft.
Crack an egg in the pan and mix around until cooked (if you prefer, you can scramble the egg beforehand).
Top with pepper, red chili flakes, and sliced avocado.
Enjoy!!!